10 October 2017
Dubai, United Arab Emirates, 10 October 2017 – Jumeirah Golf Estates (JGE), the world-class residential golf destination offering luxury homes and leisure facilities among two internationally-acclaimed championship golf courses, has awarded Al Qabdah Building Contracting ("Al Qabdah") a contract worth AED 400 million for its mid-market luxury residential community, Alandalus.
Al Qabdah, who starts with immediate effect, is a key player in the Gulf region's construction industry. It has been appointed to construct six apartment buildings (towers C-H), while construction of two other buildings (A-B) is ongoing. The entire development, including 715 apartments, 95 townhouses as well as the retail centre, is on track to be completed prior to Expo 2020.
The Alandalus apartments have been met with a very positive response, reflecting the strong demand for this type of development. The awarding of this contract sees Jumeirah Golf Estates on track to commence phased handovers from Q3 2019, beginning with Tower C. Meanwhile, towers A and B are are on track to be handed over in Q2 2018.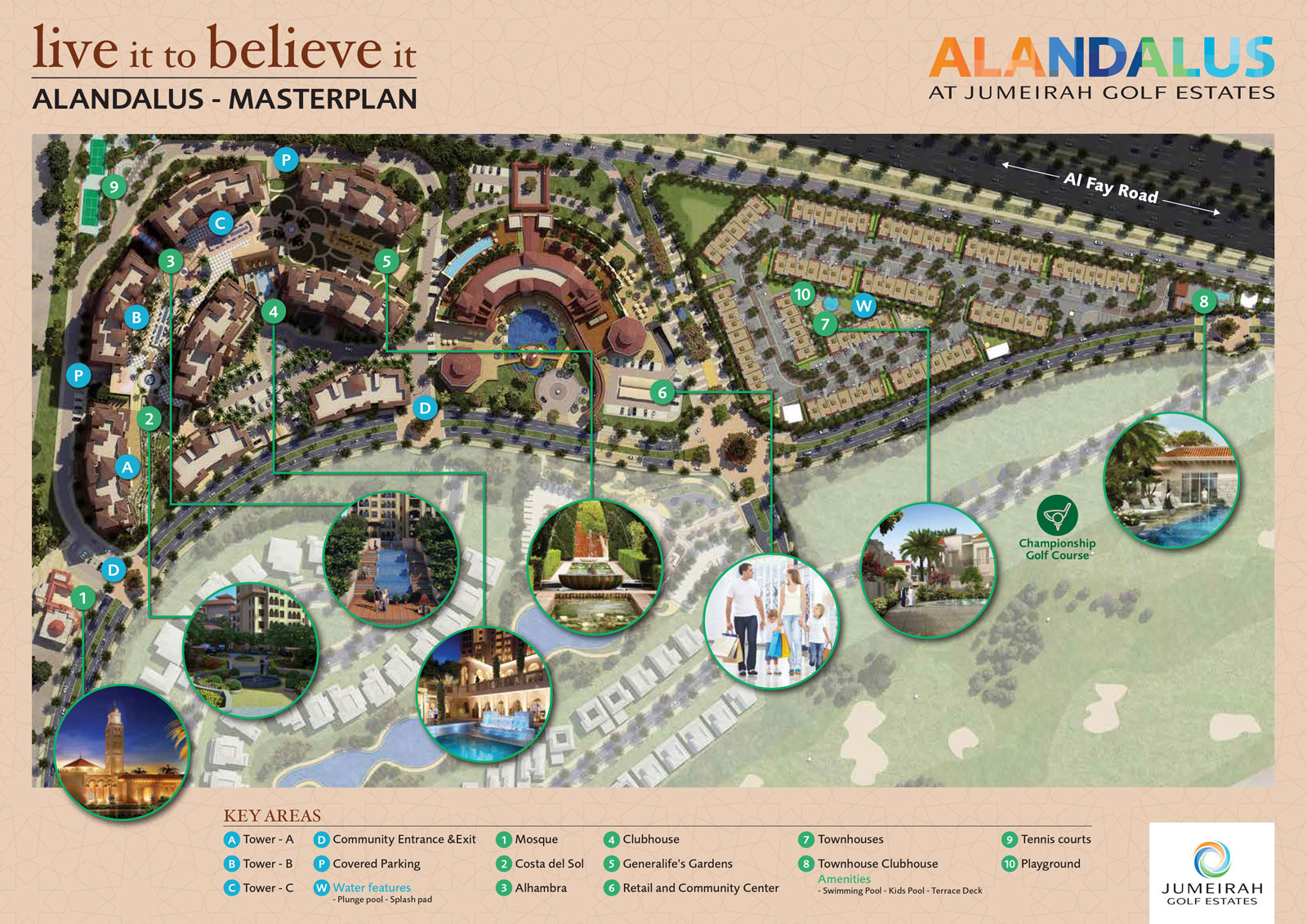 Yousuf Kazim, CEO of Jumeirah Golf Estates,said: "Al Qabdah's appointment is a sign of the rapid progress we are making on Alandalus, a community that introduced a new home concept to Dubai, combining luxury living with affordable prices in a highly desirable destination.
"We have sold out both of the launched apartment towers - a positive response that is testament to the success of Jumeirah Golf  Estates' approach to bringing the right type of product to the market at the right price. The unique property which is available with a flexible payment plan, is located on two Championship golf courses and has top quality finishings with each apartment presenting a seamless design and layout. With Al Qabdah's trusted reputation for executing projects on schedule and to the highest quality, we are confident this development will further support our focus on quality."
Samer Abdo El Achkar, CEO of Al Qabdah, said: "We are delighted to have been awarded the contract to build the Alandalus apartment towers. Al Qabdah has delivered each of its contracted projects to the highest standard and we are excited to work on this prestigious development. Delivering this project also reinforces our reputation as a trusted partner for the UAE's leading residential destinations, such as Jumeirah Golf Estates."
Featuring 715 one to four-bedroom apartments, Alandalus has set a new benchmark for the mid-market sector in Dubai. The homes have been designed to reflect a growing demand for outdoor living with Andalucian-inspired architecture and contemporary features. The community also boasts 95 townhouses, and offers a holistic lifestyle experience, with retail, plans for a hotel development, and JGE's second Clubhouse, and all in the heart of new Dubai.
Alandalus is situated on the award-winning residential golf development with two Championship golf courses, Jumeirah Golf Estates. Set across 375 hectares, 75 per cent of the property is made up of lush green landscaping, with lakes and nature strips throughout. Residential properties take up the remainder of the development, and considering that three-quarters of homes enjoy views of the Championship golf courses, residents are promised an exceptional outdoor lifestyle experience.